SoQi Bed Sale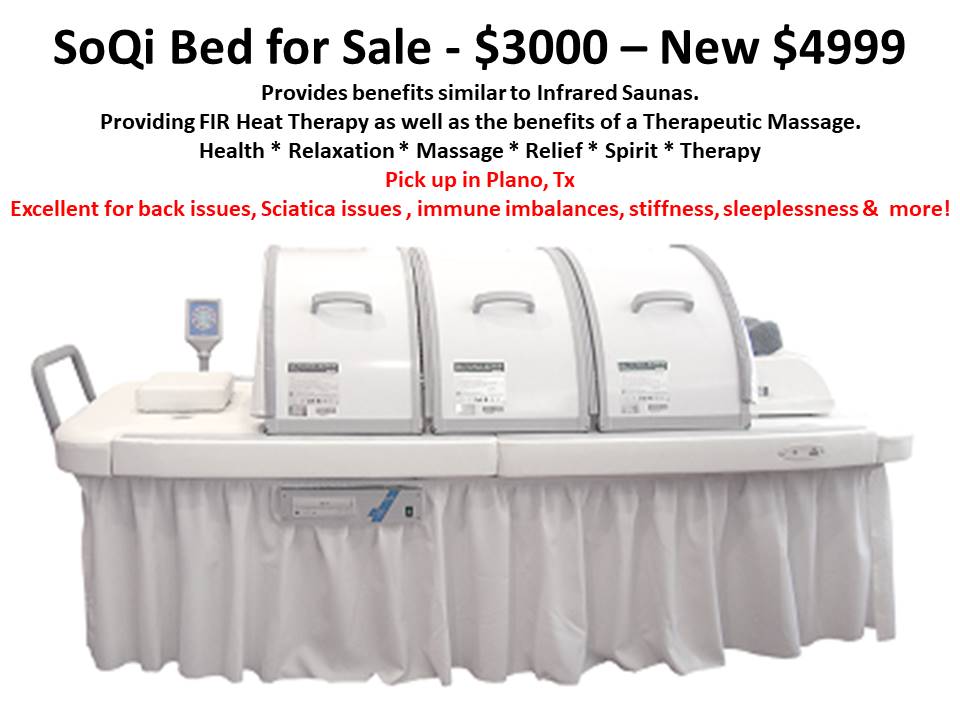 See Videos below for more info…
Imagine Getting a full body workout, full body massage, lymphatic drainage, increasing Nitric oxide (NO) and burning 900 calories per hour flat on your back fully clothed (less clothing is better)  and no one has touched you. You receive Full body relaxation every muscle and  nerve is effected and even lowers blood pressure (NO) – naturally while increasing micro circulation too!

Includes SoQi Bed Base, 3 Grande Hot Houses and 1 patented sun ancon Chi Machine. 
The SOQI Bed is a futuristic piece of equipment developed to revitalize and refresh the body. The SOQI Bed incorporates natural therapies and high quality products using a unique "Multiple Energy Approach." Combined with an ergonomically designed massage table bed and spa music, the SOQI Bed is a state of the art approach to relaxation, rejuvenation and vitality! Treat yourself to this out of this world experience and rediscover complete ecstasy and bliss with the SOQI Bed!
Features
Motion Energy – Proper circulation is vital for any living creature to thrive. Motion energy stems off of the concept of full body oxygenation. That is, delivering oxygen to all parts of the body internally so that every cell is functioning at optimal levels. Full body oxygenation can be achieved through cardiovascular exercise as well as our revolutionary heavily researched Chi Machine…
Thermal Energy – All living creatures in one way or another need the sun's rays to survive. We use the natural energy from the sun to power our bodies. Our concept of Thermal Energy utilizes a form of infrared known as Far Infrared. NASA utilizes infrared in much of their research. Hospitals use Far Infrared on babies with Jaundice and other skin disorders. Using the sun's natural rays, far infrared rays, we have developed the SOQI Ceramic Heater…
Music Therapy – Combining relaxing MP3 music with Thermal and Motion energies synergize well together offering you the most relaxing experience of your life!
 Chi Machine – Since 1990, over five million Chi Machines have been sold worldwide. The Chi Machine is a product with over 38 years of extensive research and is designed to oxygenate the body. The Chi Machine has gained a tremendous reputation for its solid construction and outstanding benefits. Unlike many types of medical devices, the Chi Machine is easy to use, providing excellent results without stress or injury to the body.
 SOQI Ceramic Heater – The Ceramic Heater produces its unique effect through radiant FIR heat. Its unique arched design enhances the thermal-effect. Experience complete enjoyment and total relaxation. The Ceramic Heater is easy to use and very comfortable making you feel absolutely wonderful! Why are we hearing so many wonderful and positive things from the many devoted users of the Ceramic Heater? Because the Ceramic Heater really works!