This is Lance. He was adopted as a hospice. He was given 2 weeks or so.. he had to be carried out side to potty as he had loss the use of his back legs. We started him on an aggressive dose of Pet bio-cell... this is a little over a month. I now say, lets give him 2 more years!!!!.Not to mention… NO MORE TUFFS OF HAIR FALLING OUT.. –I'll admit to being skeptical at first…
Recently this ol boy (in the video above)got very sick and diarrhea and wouldn't eat (came on right after his heartworm and flea prevention pills so not sure if that was it) … we don't know why but responded to a round of antibiotics and probiotics… I held his meds and his biocell until he was better….
His walking came to a near stop and wouldn't go more than a few steps….
I'm happy to report he is back on his biocell and walking has improved again in a noticeable way! He is now walking farther and will more ease… If I wasn't a believer before… I am now!
🔥I can not contain my excitement!!! 🔥 I started Sampson my 9 year old Boxer on Liquid Bio Cell… Just 1 week ago. 🐕 Sampson had ACL surgery when he was only 3 and although he recovered nearly 💯 he's been slowing down as he's aging and has started suffering with arthritis. 😭 This happened in 1 week while taking liquid collagen and look 👀 at the difference!😁 And… I wish you could feel his coat! So soft and shiny. 🤩 As an animal 🐈 🐶🐴🐎 lover, I am so excited to find a product that is able to help so many pets improve their quality of life. 👏
Like what you have seen and read so far?   Yes, you can order Pet Bio Cell here, under Collagen Sciences.  This link will get you $10 off your 1st order! 
I get a lump in my throat when I look at these pictures. My dog Todd has been suffering from some kind of skin irritation for about 6 months. He licks. He's bites. His hair is falling out.  The vet said he had allergies so we gave him pills for about 5 months. No change.
Then I did my research and discovered maybe he had a yeast problem. So we did probiotics and digestive enzymes. Not a single thing changed.    So I decided what the heck. The Canine Collagen sure can't hurt.  14 days and this is what happened. He's off meds. Didn't change his food. Nothing changed….EXCEPT ADDING CANINE COLLAGEN!
Shedding issues NO MORE!  Lets talk about SHEDDING…here's 3 different dogs that are chronic shedding dogs..look now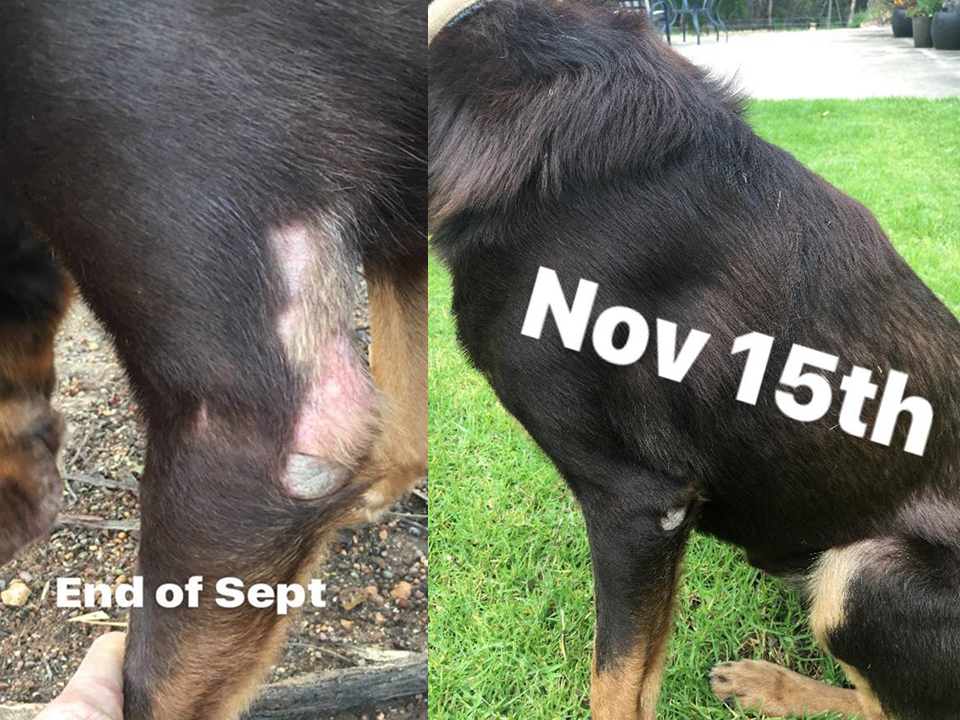 Hi this is 3 yr old Mack and he's been on pet biocell for 7 weeks. He had itchy patches and was very, very uncomfortable and unhappy, we tried different products without success. And then we tried pet biocell …WOW the results are amazing. Macks stopped scratching, the hairs grown back and he's sooo happy. I can't recommend this product enough !!

Got horses? BIOCELL EQUINE EXPERIENCE
Horse Bones or Human Bones, BioCell to the rescue!
"This horse had a broken coffin bone. This is the picture of the break…it is at top front of hoof. She is a 3 yr old paint mare. When the break was found she was put on equine biocell…which was first of February.
We were told by vet that she needed 90 days off. This Xray image was at was taken a month after she was put on the biocell. The break was already getting smooth and she is 100% sound!"

One of the top race horses in the world, 'He's Had Enough' (on Left), who is on Modere Collagen Sciences Equine, placed 2nd in the Breeders' Cup last weekend in an exciting photo finish.** It was a powerful weekend and is further evidence that the best of the best are powered by Modere Collagen Sciences.
Article taken from the Breeders Cup news letter Aug 11, 2014.
No need to tell me, I or my dog will never walk again.  Watch me defy all my diagnoses MOM! ….Watch me run!  I have my life back – Please Mom, never take me off Pet Bio Cell.    Before Pet Bio Cell   After Pet Bio Cell  Changing lives everyday!  Gunner was hit by a car and they told me he'd never walk again.   As you can see from the 1st video, Gunner could barley stand up, let alone walk.  He would just look at us with a sad face.  His 2nd video will make you cry…Pet Bio Cell forever!  Hey, I'm gonna start taking it now. Gunner has made me a believer.
No placebo effect with animals!!! 😁  So excited to share this update!  Watch me Now!  My sweet 🐶 Penny is like my child! When we discovered a few months ago she was slowing down at only age 5 it was concerning. After a few trips to the vet we learned she has hip dysplasia. Not wanting to start long term medication 💊 at such a young age (which could impact her kidneys and liver) we opted for what we use (in Pet version) for her joints. I wanted to measure the progress myself. See her before about 11 weeks ago and her after we filmed last week on the stairs. VET approved too!
The stories just keep coming in…
Our dog was diagnosed with stifle disease , we started him on biocell pet and in less than 2 months he's out walking with no limping ….I wish I had taken pics of him trying to get up and his walking…. he's only 3 and this product is going to give him a life back….thank you biocell
Before Pet Bio Cell I am Kya,  Look at me now!   Here is what Pet Blend has done for our sweet girl! Did you know there is Liquid BioCell for humans with joint issue's too? You too can be moving and grooving like my sweet Kya!